European Funds Management Related to the Cohesion Policy 2021-2027
Keywords:
Programming documents; Cohesion Policy; European Structural and Investment Funds
Abstract
According to the allocations proposed by the European Commission for Cohesion Policy, in the
period 2021-2027, Romania will benefit from a financing of about 30 billion euros. The purpose of the research
is to analyze the changes proposed by the EC in comparison with the programming period 2014-2020 and the
importance of the European funds for Romania and the previous research in the field continues. The study will
lead to a better information of the potential beneficiaries of the European projects that can be prepared in
advance, thus contributing to the increase of the absorption of the allocated funds.
References
Cappelen, A. et all. (2003). The impact of EU regional support on growth and convergence in the European Union. Journal
of Common Market Studies, vol. 41, no. 4, 2003.
Panaitescu, M. & Trandafir, M. (2016). ITI - Financing Instrument of Inter-Sectoral Integrated Management Strategies. Case
Study The ITI Danube Delta. Journal of Danubian Studies and Research, Vol 6, No 2. International Conference "The
Danube - Axis of European Identity", Gala?i, Romania, pp. 259-267.
https://ec.europa.eu/budget/library/biblio/publications/glance/budget_glance_ro.pdf, accessed on 01.03.2020, 09:00 am.
EUROPEAN COMMISSION (2019) Communication: Roadmap to an agreement on the Union's long-term budget for 2021-
, https://ec.europa.eu/commission/sites/beta-political/files/mff-communication-roadmap-agreement_en.pdf
EUROPEAN COMMISSION (2019) Communication: Time to decide on the Union's financial framework for 2021-2027,
https://ec.europa.eu/commission/sites/beta-political/files/communication-euco-mff-oct2019_en.pdf
EUROPEAN COMMISSION (2020) Proposal for a COUNCIL REGULATION activating the emergency support under
Council Regulation (EU) 2016/369 of 15 March 2016 and amending its provisions in respect of the COVID-19 outbreak,
https://eur-lex.europa.eu/legal-content/RO/TXT/HTML/?uri=CELEX:52020PC0175&rid=4
www.fonduri-ue.ro, accessed on 01.03.2020, 09:00 am;
https://stirileprotv.ro/stiri/financiar/
https://www.viata-libera.ro/prima-pagina/142965-galatiul-prioritar-in-alocarile-comisiei-europene
www.gov.ro/memo-9.pdf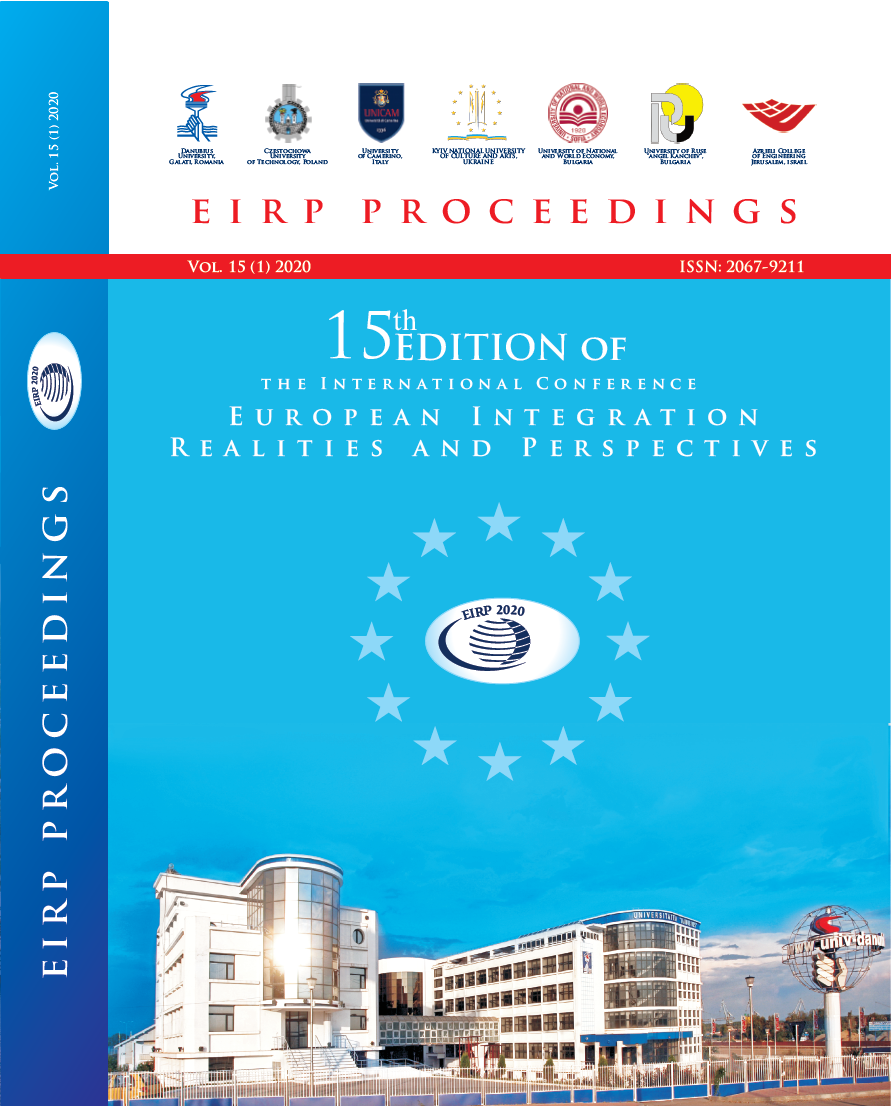 Downloads
License
Copyright (c) 2021 Manuela Panaitescu
This work is licensed under a Creative Commons Attribution-NonCommercial-NoDerivatives 4.0 International License.
You are free to:
Share — copy and redistribute the material in any medium or format
Adapt — remix, transform, and build upon the material
for any purpose, even commercially.
The licensor cannot revoke these freedoms as long as you follow the license terms.
Under the following terms:
No additional restrictions — You may not apply legal terms or technological measures that legally restrict others from doing anything the license permits.