The Impact of Foreign Investments on Economy
Keywords:
corporate phenomenon; economic crisis;urban growth management; growth management policies
Abstract
The aim of this research is to focus the attention to the link between the foreign investments and the financial
globalization and their impact on the economic development. The objectives are to underline the role of foreign investments in
a financial world and, also, the influence of the latter upon the formers. The paper tries to build on to which extant these two
concepts interfere, with what consequences and to see which are the limits of this interference and, also, the regulations and
international forums dealing with these matters. This trial is put into evidence by the method of observation, analyzing the
phenomenon and correlating the data. The present study intends to highlight the results of the proposed research, in order to be
useful both for economists, academics and, also, for researchers.
References
Balgar, A. C. (2018). Foreign direct investment and the dynamics of macroeconomic structures. Doctoral thesis. Bucharest: Academia Romana.
Dobrota, N. (1991). The ABC of the modern market economy. Bucharest: Casa de Editura si Presa "Viata Româneasca".
Pankaj, G. (2007). Redefining Global Strategy; Crossing Borders in a World Where Differences Still Matter. Boston,
Massachusetts: Harward Business School Press.
Feler, V. (2009). Foreign direct investment and the new world economic order. Bucharest: Ed. Universitara.
Horobet, A. & Popovici, O. (2017). Foreign direct investments their evolution and importance in Romania, Study carried aut in partnership by the Bucharest Academy of Economic Studies and the Council of Foreign Investors.
Hui, E. C. M. & Liang, C. (2015). The spatial clustering investment behavior in housing markets. Land Use Policy, Volume 42, pp. 7-16.
Huidumac Petrescu, C. E.; Joia, R. M.; Hurduzeu, G. & Vlad, L. B. (2011). Expansion of foreign direct investment – determinant of globalization. Theoretical and Applied Economics, Vol. XVIII, No. 1 (554), pp. 166-175.
Keynes, J. M. (1936). General theory of employment, interest and money. Bucharest: Ed. Publica.
Leitao, N. C. (2012). Foreign direct investment and globalization. https://mpra. ub. uni-muenchen. de/37436/ MPRA Paper,
no. 37436.
Mazilu, A. (2003). Foreign direct investment effects on recipient countries. Economic Forum, no. 8, pp. 70-73, Bucharest.
Simionescu, M. (2020). Improving unemployment rate forecasts at regional level in Romania using Google Trends.
Technological Forecasting and Social Change Journal. North-Holland, no. 2020/6/1, Vol. 155, pp. 120026.
Vintila N. & Stancu, I. (2009). Evaluation and financing of direct investments. Bucharest: Ed. ASE.
Vongpraseuth, T. & Choi, C. G. (2015). Globalization, foreign direct investment, and urban growth management: Policies and conflicts in Vientiane. Science Direct, Elsevier Ltd, Laos, Land Use Policy, Volume 42, pp. 790-799.
*** (2008). OECD - Benchmark Definition of Foreign Direct Investment: 4th Edition,
*** (2009). IMF - Balance of Payments and International Investment Position Manual. 6th Edition.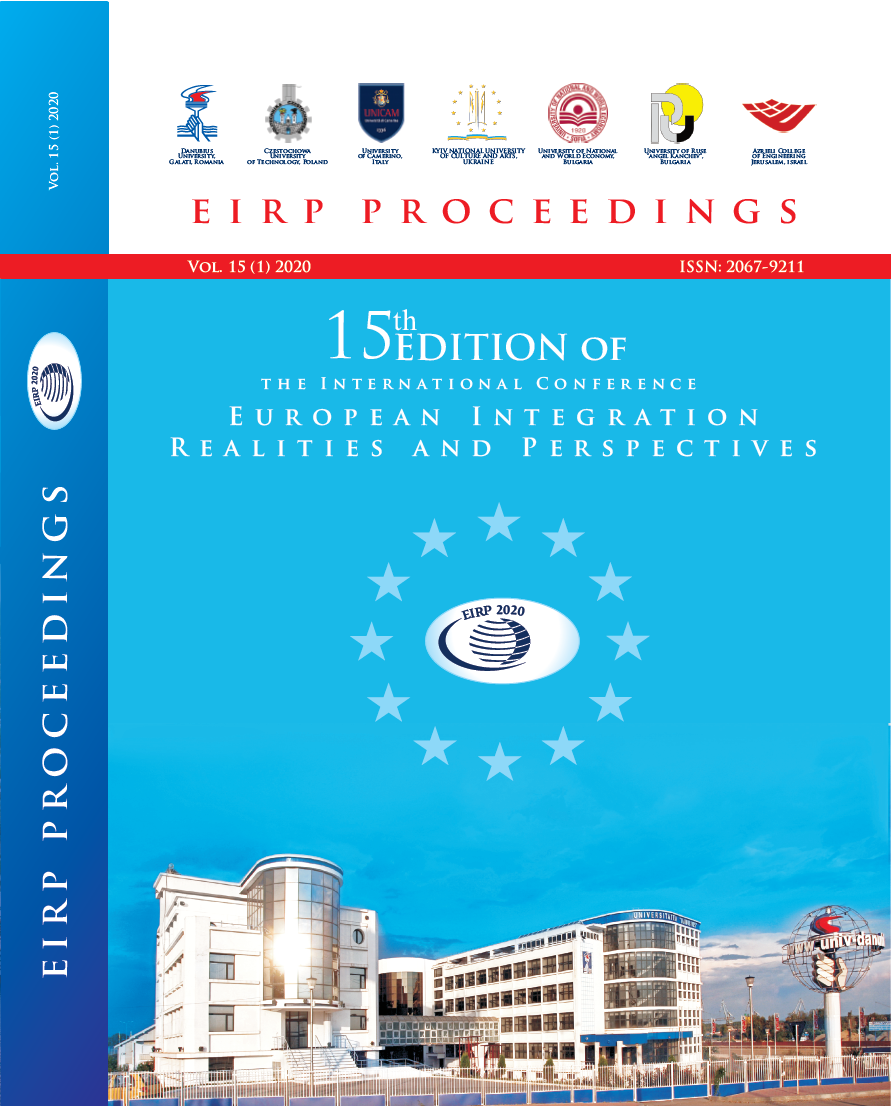 Downloads
License
Copyright (c) 2021 EIRP Proceedings
This work is licensed under a Creative Commons Attribution 4.0 International License.
You are free to:
Share — copy and redistribute the material in any medium or format
Adapt — remix, transform, and build upon the material
for any purpose, even commercially.
The licensor cannot revoke these freedoms as long as you follow the license terms.
Under the following terms:
No additional restrictions — You may not apply legal terms or technological measures that legally restrict others from doing anything the license permits.