The Impact and the Social Mission of the Juridical order in Republic of Moldova at the Stage of association to European Union
Keywords:
Legal order; European Union; European Law; European Law principle; association
Abstract
Today, the European Union is a political and economic construction that was reached after several
decades of integration efforts. The EU institutions were able to create and preserve the rule of law within the
European commonality, serving as a benchmark for its citizens. EU institutions functioning must be
permanently ensured, which are basing tools of modeling a large consensus on common values and norms
within community block. This paper aims to explain the impact and social purpose of the legal order of the
Republic of Moldova at the stage of association with the European Union.
References
Bancila, ?. (2014). ?l?b?r?r?? si sist?m?tiz?r?? ?ct?l?r n?rm?tiv?/Elaboration and systematization of normative acts.
Retrieved from https://www.juridice.ro/wpcontent/uploads/2014/05/teza_Bancila_A.pd.
Bud?, D. (2002). Uniun?? ?ur?p??na – r??lit?t? juridica/European Union - legal reality. R?vist? Tr?nsilvan??na d? Stiin??
?dministr?tiv?/Transylvanian Journal of Administrative Sciences. No. 1(7).
http://rts?.r?/rts?/ind?x.php/rts?/?rticl?/vi?wFil?/358/353.
Fl?r?? D, N. (2016). P?rticul?rit??il? cr?arii si ?plicarii d? catr? st?t? ? n?rm?l?r d? dr?pt int?rn?ti?n?l public/ Particularities
of the creation and application of the status of the public international law.
http://www.cnaa.md/files/theses/2016/24394/dumitrita_florea_thesis.pdf.
Hum?, I. (2016) . N??s juridic. V?l?ril? id?ntit?r? in f?t? gl?b?lizarii. Cul?g?r? d? studii./ Values of identity in the face of
globalization. Collection of studies. Bucharest: Univ?rsul Juridic.
Pr?i?ctul Twinning p?ntru ?rm?niz?r?? l?gisl??i?i R. M?ld?v? cu c?? ? Uniunii ?ur?p?n? v? fi l?ns?t in P?rl?m?nt/ Twinning
project to harmonize the legislation of the Republic of Moldova with that of the European Union will be launched in Parliament.
http://www.r??lit?t??.md/pr?i?ctul-twinning-p?ntru-?rm?niz?r??-l?gisl?ti?i-r--m?ld?v?-cu-c??-?-uniunii-?ur?p?n?-v?-fil?ns?t-
in-p?rl?m?nt_65524.html.
Radu, R. H. (2014). Pri?rit?t?? ?rdinii juridic? U? ?supr? dr?ptului n?ti?n?l./Priority of the UAE legal order over national
law. http://www.constcourt.md/public/files/file/conferinta_20ani/programul_conferintei/Razvan_Horatiu_Radu.pdf.
Robea, M. (2015). Unele considerente referitoare la particularitatile ordinii de drept la nivelul Uniunii Europene/Some
considerations regarding the particularities of the rule of law at the level of the European Union. Legea si Viata/Law and Life.
No. 12, p. 35-40.
Verga, C. (2014). Dr?ptul Uniunii ?ur?p?n?/The law of the European Union.
https://jurisdictie.wordpress.com/2014/06/30/dreptul-uniunii-europene-suport-de-curs/.
?r?m?, ?. (2009). R?fl?ctii privind sist?mul si ?rdin?? juridica/Reflections on the system and the legal order. R?vist? n?ti?n?la
d? dr?pt/National journal of Law, No. 10-12, pp. 3-11.
Legal Acts:
*** (1994). C?nstituti? R?publicii M?ld?v?/Constitution of the Republic of Moldova, No. 1.
*** (2014). L?g?? R?publicii M?ld?v? p?ntru r?tific?r?? ?c?rdului d? ?s?ci?r? într? R?public? M?ld?v?, p? d? ? p?rt?, si
Uniun?? ?ur?p??na si C?munit?t?? ?ur?p??na ? ?n?rgi?i ?t?mic? si st?t?l? m?mbr? ?l? ?c?st?r?, p? d? ?lta p?rt?/ Law of
the Republic of Moldova for the ratification of the Association Agreement on the hand, and the European Union and the
European Atomic Energy Community and their memver States, of the other part, No. 112.
Declaratia Universala a Drepturilor omului/Universal Declaration of Human Rights. Retrieved from
https://www.ohchr.org/en/udhr/documents/udhr_translations/rum.pdf.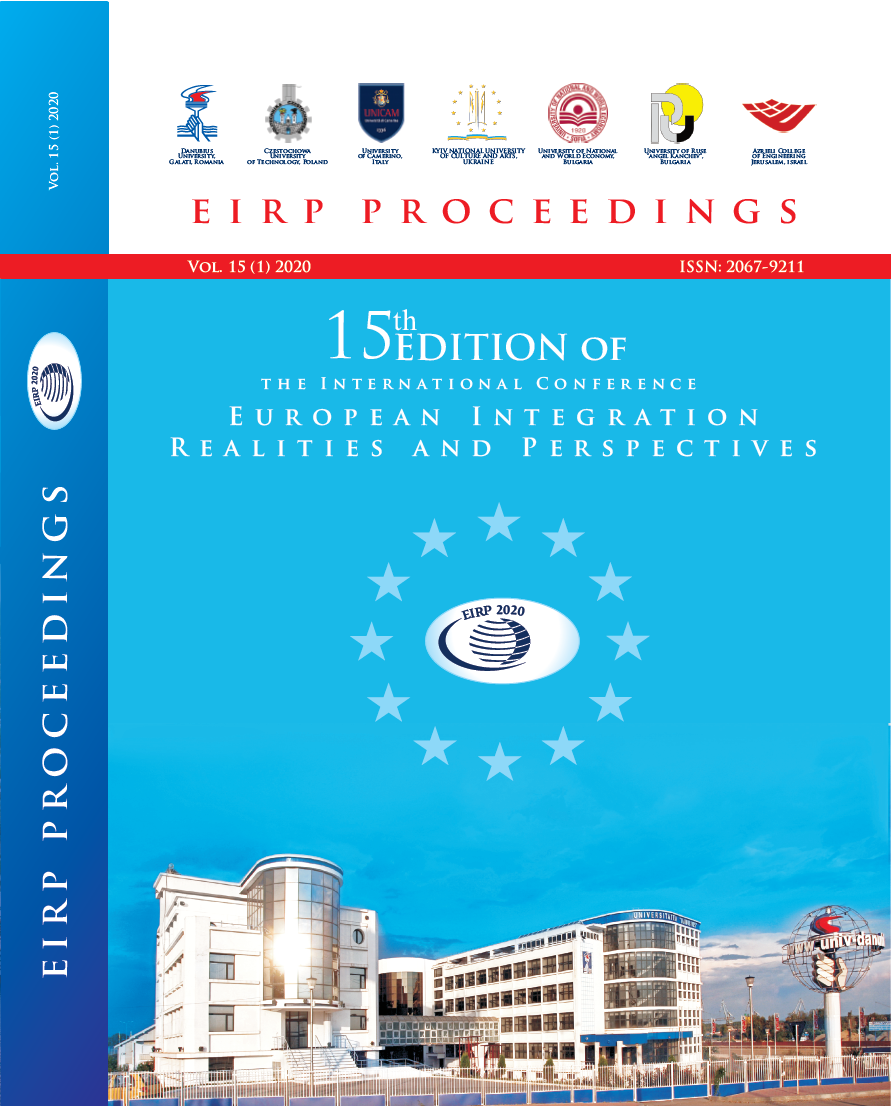 Downloads
License
Copyright (c) 2021 EIRP Proceedings
This work is licensed under a Creative Commons Attribution 4.0 International License.
You are free to:
Share — copy and redistribute the material in any medium or format
Adapt — remix, transform, and build upon the material
for any purpose, even commercially.
The licensor cannot revoke these freedoms as long as you follow the license terms.
Under the following terms:
No additional restrictions — You may not apply legal terms or technological measures that legally restrict others from doing anything the license permits.