Interregional Cooperation Between Romania and Hungary under the Aegis of European Territorial Cooperation Goal
Keywords:
Regional cooperation; management; development; European projects
Abstract
Romania and Hungary, two Eastern European Nations from the former communist bloc, are emerging nations involved in historical efforts to make the crucial step from a transitional economy to the values and standards promoted by the European Union. Even the economy and the labour market from the two countries produce a small portion of the European GDP, in the last 30 years after the fall of the Communism, there are visible signs of openness to the worldwide business performance orientation. The aim of this article is po present and analyse the economic background and the common regional projects in education research and development, environment, risk prevention, management infrastructure and the identification of the main challenges and future potentials.
References
Corner, T. (2013). Education in the European Union: Post-2003 Member States. London: Bloomsbury Publishing.
Halpern, L. (2011). Hungary: Towards a Market Economy. London: Cambridge University Press.
Holban, M. (1983). Calatori straini despre tarile Romane/ Foreign travellers about the Romanian Countries. Bucharest: Stiintifica si Enciclopedica.
Kluve, J. (2010). Active Labor Market Policies in Europe: Performance and Perspectives. New York: Springer.
Molnar, M. (2014). A concise history of Hungary. London: Cambridge University Press.
Schmitt, O.J. (2018). Romania in 100 de ani. Bilantul unui veac de istorie/ Romania in 100 years. A century of history. Bucharest: Humanitas.
Simut, R.M. (2016). Convergenta economica a Romaniei. De la paradigme la strategii concrete/ Economic convergence of Romania. From paradigms to concrete strategies. Bucharest: Economica.
Stefan-Catalin Topliceanu, Sergiu-Lucian Sorcaru (2019). The Effects of Brexit on the European Union, Economic Power and Implications on the British Economy, Acta Universitatis Danubius: Oeconomica.
Eurostat https://ec.europa.eu/eurostat (12.02.2020).
EU Fonds 2014-2020 https://cohesiondata.ec.europa.eu/funds/cf# (17.02.2020).
ESPON Factsheet Hungary-Romania https://www.espon.eu/programme/projects/espon-2013/scientific-platform/factsheets-cross-border-and-transnational-co (16.02.2020)
Hungary CIA World factbook https://www.cia.gov/the-world-factbook/countries/hungary/ (11.02.2020).
KHS Central Statistical Institute of Hungary https://www.ksh.hu/?lang=en (12.02.2020).
Human Development Index http://hdr.undp.org/en/content/latest-human-development-index-ranking (14.02.2020).
INS National Statistical Institute Romania https://insse.ro/cms/en (12.02.2020).
Interreg V-A Romania Hungary https://interreg-rohu.eu/en/home-en/ (15.02.2020).
Romania CIA World factbook https://www.cia.gov/the-world-factbook/countries/romania/ (11.02.2020).
World Economic Outlook https://www.imf.org/en/Publications/WEO (16.02.2020).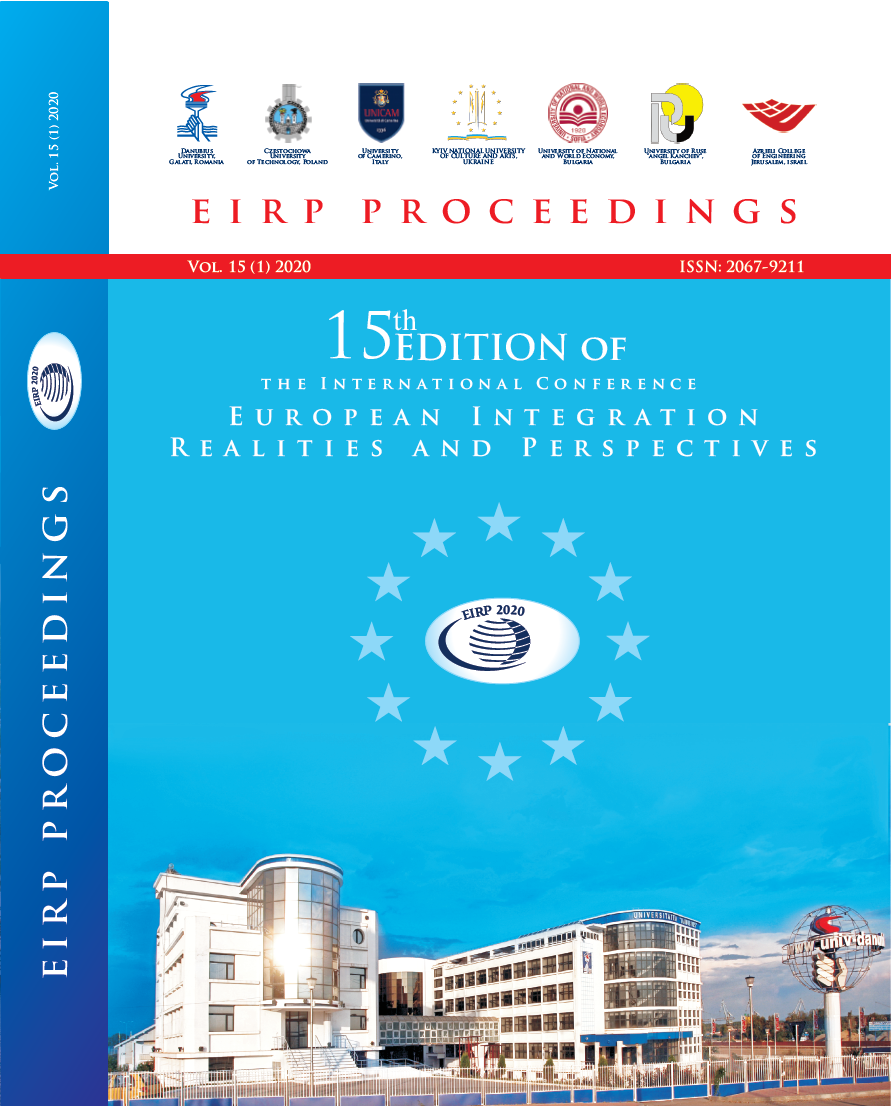 Downloads
License
Copyright (c) 2021 EIRP Proceedings
This work is licensed under a Creative Commons Attribution 4.0 International License.
You are free to:
Share — copy and redistribute the material in any medium or format
Adapt — remix, transform, and build upon the material
for any purpose, even commercially.
The licensor cannot revoke these freedoms as long as you follow the license terms.
Under the following terms:
No additional restrictions — You may not apply legal terms or technological measures that legally restrict others from doing anything the license permits.